Archives by date
You are browsing the site archives by date.
Those of you who have never been able to attend a live Avistrum event have waited a long time for this day, but we are pleased to announce the immediate availability of an online Sorting! The Great Eagle will probe your mind and find the best house for you – Parador, Enigmus, Lobostro, or Colubrae.
In the spirit of our successful campaigns for Voldemort/Malfoy in 2004 and The Marauders in 2005, comes our annual Fictional Guest of Honor Campaign at MileHiCon 38. Our campaign this year is for The Order of the Phoenix! MileHiCon takes place this weekend, October 27-29, 2006 at the DTC Hyatt (Google Maps, MapQuest, Yahoo! Maps). [...]
Attention anime fans! NanDesuKan is coming up this weekend, October 6-8, 2006, at the Denver Tech Center Marriott (Google Maps, MapQuest). Avistrum faculty and residents will be present all weekend. Stop by and say hello!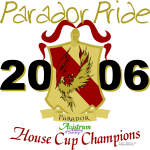 Congratulations once again to Parador house for their victory as House Cup Champions at OPUS 2006! To celebrate their victory, we have a new line of House Cup Champions merchandise available at CafePress! We are also pleased to announce a price cut in almost all of our CafePress apparel. If you've been waiting to buy [...]
Posted in
Recaps
| Tagged

champions, Charms, DADM, Divination, House Cup, Morning Oracle, Muggle Studies, Parador, Persephone, Potions, Practical Magics, Sorting, Transfiguration
|
1 Response