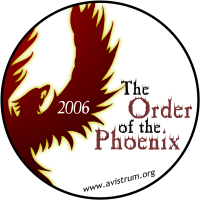 In the spirit of our successful campaigns for Voldemort/Malfoy in 2004 and The Marauders in 2005, comes our annual Fictional Guest of Honor Campaign at MileHiCon 38. Our campaign this year is for The Order of the Phoenix!
MileHiCon takes place this weekend, October 27-29, 2006 at the DTC Hyatt (Google Maps, MapQuest, Yahoo! Maps). This is a new location this year!
In addition to our FGoH campaign, we will also have the following classes on Sunday, October 29, for free with MileHiCon admission:
11:00 – 12:00: Potions with Prof. Moffat
3:00 – 4:00: Defense Against Dark Magic with Prof. Dowling
4:00 – 5:00: Alchemy (Brand New!!)
Just as last year, free campaign buttons will be available to anyone who "votes" with 4 quarters or more! Remember: vote early and vote often!
Join us!