Thanks very much to everyone who visited our room at StarFest 2007! Lady Viola Fey really enjoyed all of the Death Day cards. Read on for winners of our contests, plus a special edition of the Morning Oracle!
Posted in
Recaps
| Tagged

Alivan's, art contest, deathday, Head Boy, Head Girl, Morning Oracle, Order of the Phoenix, prefect, Quidditch, Sage Moon, Starfest, tournament, Viola Fey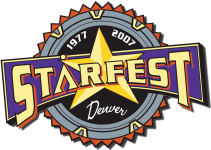 Been wondering what activities we at Avistrum have planned for the weekend of April 20-22, 2007 at Starfest? We know you're almost done with your art contest entry (right?), but there's a whole lot more going on this weekend for you to see and do, young wizards and witches! Purchase your tickets online today!