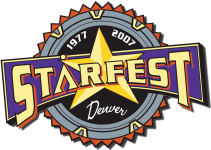 Been wondering what activities we at Avistrum have planned for the weekend of April 20-22, 2007 at Starfest? We know you're almost done with your art contest entry (right?), but there's a whole lot more going on this weekend for you to see and do, young wizards and witches! Purchase your tickets online today!
We would like to thank the hundreds of people who came by and visited us at StarFest, at both our table on Friday and Saturday, as well as the room we had all day Sunday! We hope you enjoyed Wizard Jeopardy hosted by the Marauders on Saturday, and the Potions and Practical Magic lessons on […]
We are very pleased to announce that registration is now available for Avistrum's Spring Term at OPUSFest 2006, May 19-21, 2006 (Google Calendar)! If you missed out on the adventure of The Medallion of Akpuch in 2005, you'll want to be part of this year's event! Register now at Mollyguard. We only have space for […]
Posted in
Past
| Tagged

Charms, CoMB, DADM, Dark Wizards' Ball, Divination, House Cup, Opus, Potions, Quidditch, robes, Sorting, tournament, Transfiguration
|
2 Responses
Posted in
Recaps
| Tagged

Alivan's, Charms, CoMC, DADM, Dementors, Divination, House Cup, Lobostro, Medallion of Akpuch, Opus, Persephone, Potions, Quidditch, Sorting, Tales from Avistrum, tournament
|
2 Responses
Those of you who joined us at OPUS last year will be very excited to learn that we are now an all-weekend mini-con. To sign up, go to opusfest.com.
A special note for potential students
We at Avistrum recognize that not all witches and wizards discover their talents at a young age. Therefore we accept students of all ages, young and old.