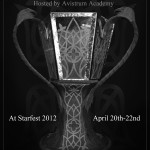 It's the 4th Annual Triwizard Tournament at Starfest 2012! Come to Avistrum Academy (the Concierge Lounge) to register for the Tournament! Compete in the tasks and you just may make it to the Third Task, Wizard Jeopardy! Whoever wins Jeopardy is the Triwizard Champion and will be awarded the Grand Prize: Full Weekend Passes to […]
Here is the trailer for this summer's full-length feature film, Tales from Avistrum: Worlds at War. The film will debut in two parts in September, and leads straight into the live show at MileHiCon in October. The trailer debuted to Denver fans at Starfest last weekend. Enjoy!
WNN has posted the footage of the mysterious assassin's attack on Oswald Kensington which was foiled by Secretary-elect Aberfoyle, who threw himself in front of the curse. No update yet on the Professor's condition.
Professor Aberfoyle prevailed in the special election for Secretary of Magic, but he was gravely injured while saving Senator Kensington, his opponent, from an assassination attempt during his victory party. You can read more about this story in the Morning Oracle. We know you are all very worried about the Secretary-elect. We will post more […]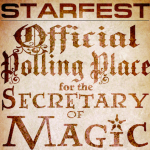 Don't forget – Starfest 2011 (this weekend, April 15-17) is an official polling place for the Secretary of Magic special election pitting Senator Polonius Aberfoyle against Senator Oswald Kensington and write-in candidate Simon Drake – come join us and get out the vote! You can also attend special classes in Herbology, History of Magic, and […]
Posted in
Past
| Tagged

DADM, Herbology, History of Magic, MileHiCon, Nan Desu Kan, Quidditch, Starfest, Tales from Avistrum, tournament, Weekend, Worlds at War