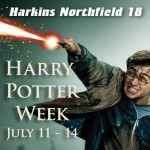 Join us for Harry Potter and the Deathly Hallows: Part 2 at the Harkins Northfield 18 theater this Thursday evening, July 14th as we prepare for the midnight show! We will be dressed up as many of your favorite characters from the saga, and we will have prize drawings!
You can purchase tickets online through MovieTickets.com or in person at the Harkins box office.
The Harkins is celebrating the release of the film with Harry Potter Week, where they will be screening the whole set of films in sequence from July 11th thru 14th. If you are interested, visit their special page for the event.
Whether you join in the week-long celebration or just come for the midnight show, we hope you will join us as we say goodbye to Harry, Ron, and Hermione!