There are only 5 days left for you to get advance tickets for Tales from Avistrum: Endgame! Tickets will be available at the door, but they are more expensive! You don't want to miss the explosive final chapter in the Simon Drake saga! Event Registration Online for Tales from Avistrum: Endgame powered by Eventbrite
Registration for Tales from Avistrum: Fall from Grace (October 22-24, 2010) is now available! Special pricing is available before June 1, so hurry!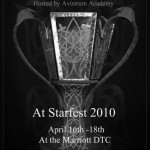 Our extremely popular Tri-Wizard Tournament is returning to Starfest 2010! Come join us for the activities to win a chance to compete in Tri-Wizard Jeopardy for the grand prize – full-weekend passes to NanDesuKan 2010, Tales from Avistrum at MileHiCon 42, and Starfest 2011! We'll also have classes, activities, our PS2 Quidditch tournament, and more! […]
Thanks to our wonderful partners at MileHiCon, we've been permitted to extend our online pre-registration until October 16th. Please take advantage of their generosity and join us for our next exciting chapter in the Tales from Avistrum saga, Echoes of Salem!
Have you purchased your tickets for Tales from Avistrum: Echoes of Salem yet? Online registration ends October 9th! After that date, you can still reserve tickets by emailing us at tickets@avistrum.org, but you will have to pay full price at the door – you save $5 by pre-registering online today!