Secretary of Magic, Transfiguration Emeritus, Former Head of Parador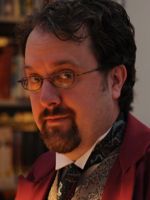 Polonius Cassius Aberfoyle comes from a long line of wizards, stretching back to the very beginnings of wizardry in America. His father's father's father's father's father's father, Justinius Aberfoyle, was married to Pyramis Parador's sister Eugenia, and was one of the original professors of Avistrum, teaching History of Magic. Polonius' own father, Augustus, is an Auror working for the Federal Aurors' Service. His mother, Marielle, runs a boutique for the well-dressed witch called The Enchanted Loom.
Polonius was a top-notch student at Avistrum. He earned excellent grades in Transfiguration, Charms, and Defense Against Dark Magic, and passable grades in Potions, Herbology, and Care of Magical Beasts. He was an outstanding Chaser for the Parador house team, and was Team Captain for an unheard-of 5 straight years. His skill brought Parador the House Cup in his third year, where he had what turned out to be the game-winning shot in a 270-260 match over Colubrae. Unfortunately, despite his prowess, that would be the last championship for Parador in his time at school, thanks at first to the other-worldly skill of Colubrae Seeker Kraven Bloodthorne, and then the combination of Tyler Ward and "Howling" Clark Dowling for Enigmus. It was actually a wonder that Aberfoyle found the time to play, since he was also a house Prefect and eventually Head Boy.
Despite an offer of a position as a reserve Chaser for the Chicago Centaurs, Polonius opted instead to work as a consultant for Alivan's instead, researching new wand cores for their transfigurative properties. He also assisted in the design of several new broom models.
Aberfoyle is a known member of Dowling's Dark Hunters, stretching back to before his time at Avistrum. A little-known fact about him is that he is registered with the Department of Wizardry as an Animagus who can change into a falcon. This talent has come in handy several times during his work with the Dark Hunters.
When Professor Dowling took over as Headmaster at Avistrum, he recruited Professor Aberfoyle to teach Transfiguration and serve as Head of Parador House. He is in his seventh year with Avistrum, and delighted by the environment and the opportunity to shape young minds.
When the PRETEND (PREventing Transfiguration ENhanced Deception) Act was passed in 2007, Aberfoyle was barred from teaching his beloved subject, and, since Kraven Bloodthorne had disappeared under mysterious circumstances, he reluctantly took over teaching Divination for a year. Evidence surfaced that year that he may in fact be a True Seer, a fact which he strongly denies, saying "Divination is nothing but parlor tricks."
Leading the fight to overturn the PRETEND Act, Aberfoyle ran for Wizard Senate in 2008 as the candidate for the Progressive Wizards' Party. The PRETEND Act was repealed just days before the election, and he was able to return to teaching Transfiguration. He nevertheless won the election, representing the state of Colorado. He continues to serve on the faculty of Avistrum in addition to his new duties as a Senator.
In October 2010, when Secretary Greywolf abruptly resigned as Secretary of Magic, Aberfoyle's chief rival, Senator Oswald Kensington, announced his intention to seek the position. Unwilling to allow Kensington the nomination, Aberfoyle immediately announced his own candidacy. The two faced each other in a primary election for the PWP nomination in January 2011.
Aberforle won the primary, but was shocked when Kensington switched tickets and was nominated by the opposing party.
A bitter and intense election followed. The campaigns of the respective candidates fought tooth and nail, launching numerous posters, campaign ads and an on-air debate that was filled with vitriol.
Simon Drake joined the scene as an independent party, filling the wizarding media with propaganda.
When the polls opened in April of 2010, the nation knew they were in for a tight race.
As the poll results started to come in, it was much closer than anyone anticipated. To make matters even more intense, Simon Drake actually managed to gain enough support to claim 3 different states. It all boiled down to one state to decide who would become the new Secretary of Magic; Colorado. Up to that point, Aberfoyle and Kensington were tied with each Senator claiming twenty-three States.
The results came in. Colorado had chosen Polonius Aberfoyle as the next Secretary of Magic. The students of Avistrum rejoiced right alongside Aberfoyle who was watching the election results with the students and faculty.
Hugs and handshakes were traded throughout the room before Aberfoyle graciously announced he would be leaving to accept the nomination at the Hexagon.
Kraven Bloodthorne and Clark Dowling voiced their concern about him going alone, but Polonius insisted he would be fine.
During his acceptance speech, Oswald Kensington approached the podium. No malice intended, he shook Aberfoyle's hand and formally conceded the election in person. Kensington also said that he intended on taking up Polonius' offer for a united front against the threat of Simon Drake.
Unfortunately, this high-spirited celebration was marred by an assassination attempt by an unknown assailant. The would-be assassin, (later revealed to be the Boogeyman) made an attempt on Senator Kensington's life. Aberfoyle spotted the attack and threw himself in front of the dark spell.
The curse did not kill the new Secretary of Magic, but did render him into a coma. For months, he lay in a hospital but had a steady stream of visitors from his friends and family at Avistrum. But none so constant a visitor as his former rival, Senator and interim Secretary of Magic, Oswald Kensington.
Polonius did manage to make a miraculous recovery and visited Avistrum Academy in the 2011 term. He did need the assistance of a wheelchair a great deal of the time, but having his presence at Avistrum lifted everyone's morale.
In 2012 when Simon Drake launched his endgame attack on Avistrum, Polonius was right back on the front line of defense. When the Boogeyman arrived on the grounds and called out Clark Dowling, Aberfoyle insisted on fighting along side his old friend. Clark questioned how good of an idea it was, as Polonius still carried a cane. But to everyone's surprise, Aberfoyle threw the cane to one of his Secret Service, exclaiming that he "just thought it looked cool."
Together, Polonius and Clark walked onto the grounds to face their adversary.
But the Boogeyman was not alone. Some of his followers, a group of hooded Dark Wizards joined him in the attack.
It turned out that the two men were not alone as they were joined by the mysterious Elizabeth Blackwell.
Together, the three were able to bring down the Dark Wizards and with the help of the students, the Boogeyman was finally defeated.
When Simon Drake walked into the halls of Avistrum, once again Polonius stood up to face him alonside Clark. The three engaged in a tense and swift sword fight, but the centuries of training Drake had proved to be too much. But in the end, Drake would be defeated by the united front the students and faculty held together.
Post the Drake War, Secretary Aberfoyle hopes to finish this term in peace. However he is no less active, striving to make positive changes in our government and to make life better for all people of magic and muggle alike.
To hear more about the character of Polonius Aberfoyle, please view the following segment of the MME documentary, The Making of Avistrum.